You have to catch the Bruneau River while you can, and for many, it's a bucket list expedition you'll want to catch.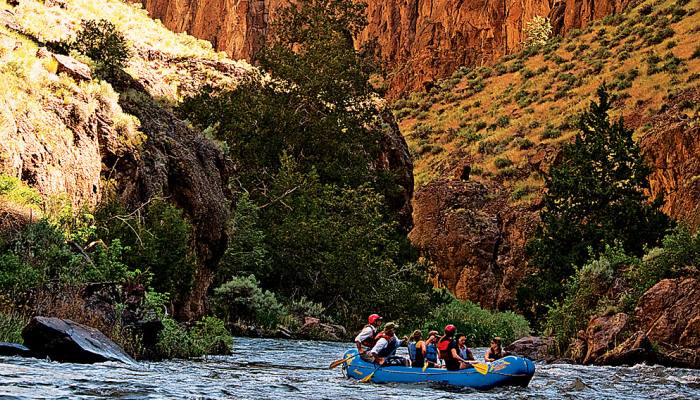 Trip Specifics
Bruneau river is also a safari format. Remote, wild and private, this amazing canyon is a yet to be discovered jewel. Sheer walls, hoodoo's and pinnacles are eye candy to absorb.
Trip date: May 10-13, May 16-19, May 21-24, 2023.
Trip Costs: 4 day / 3 night, Price is $2,700.00 per person all-inclusive.
Max is 9 guests.
Jarbidge extension is an expeditionary format due to the nature of a river with portages. High guide to guest ratio.
Trip Cost: 6 / day – 5-night Jarbidge/Bruneau is $3,699.00 all-inclusive.
Max is 6 guests May 14-19, 2023.
Bruneau Canyon
Over a four-day, 40-mile river trip in May or June, you'll experience the intimacy of the Bruneau Canyon, a mini-Grand Canyon, with vertical red-rock cliffs, fingers, caves and odd shapes that creative minds can name on their own.  After a super fun day on the river, you'll relax in camp while guides serve hors d'oeuvres, distinctive wine and a gourmet dinner featuring locally grown food.
The last day on the Bruneau River features Five Mile Rapids, a series of challenging rapids through seemingly endless boulder fields. You'll be happy to be in the company of Far & Away's experienced guides, and you'll watch with awe as they expertly maneuver through the maze.
The Bruneau River became a national wild and scenic river in 2009 as part of an Owyhee Canyonlands wilderness bill, which also protected the Bruneau Canyon from rim to rim.  After experiencing the Bruneau, we're sure you'll agree that the canyon is deserving of full protection. In fact, if it were located in a place like Kansas, it'd probably be a national park.
Jarbidge-Bruneau
It's a rare treat to experience the National Wild and Scenic Jarbidge-Bruneau River canyon. Approach the trip knowing that the river has multiple challenging constrictions, requiring portages around dangerous rapids and steep drops. You'll be part of the team helping with portages and lining rafts to ensure a safe trip. Just seeing these pinch-points will make your heart beat faster, but it's also comforting to know that your guides have been through this before, many times, and will take care of your safety. A team effort makes everything go more smoothly. Let the guides be your leader.
Do be sure to participate in side-hikes in the redrock rhyolite canyons. There are some rare spots where you can scramble into side canyons, slot canyons or the best and most magical side canyon of all, called Cave Draw. It is named so for good reason … there is a small valley of caves a quarter-mile hike above the Bruneau Canyon. Once you arrive, you will stand in awe and wonderment. Walk into the caves and explore this secret spot in the desert. Look for animal tracks. Enjoy a quiet moment of personal reflection. You will return to camp a different person.
Approach the trip with a sense of adventure and be ready to explore the hidden jewels of the Jarbidge-Bruneau canyon. It will enhance your trip.
Start Your Adventure Today!