The Owyhee River offers a real chance for personal adventure.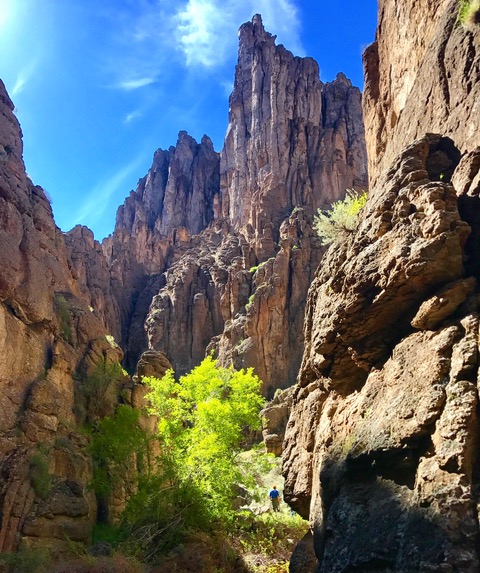 Trip Specifics
The headwaters of the Owyhee is the heart of remote expeditionary river trips in the lower 48. It's an adventure just finding your way to the launch site. F&A is one of the very few allowed to run the entire river, challenging the Grand Canyon in river miles.
Trip Cost: Lower Owyhee River is $2,900.00 per person
Middle Owyhee River is $2,500.00 per person
South Fork Owyhee River is $3,500.00 per person
Floating the Owyhee Canyonlands
Get ready for a unique adventure in one of the best-kept secret spots in North America – the Owyhee Canyonlands.
The Big Wide Open
The Owyhee Canyonlands is a vast landscape that embraces more than 3 million acres of public lands in Southwest Idaho, Eastern Oregon, and northern Nevada. It's an enormous, wide-open landscape punctuated by deeply incised canyons. It's all-natural just like Mother Nature made it. No services anywhere. You'll travel through these spectacular reddish-orange canyons in the best way possible – by raft — experiencing the grandeur of the place, mesmerized by rock spires and alcoves, hearing the classic descending call of canyon wrens as they fly overhead, and maybe seeing a majestic golden eagle glide along the canyon rim. California desert bighorn sheep roam all of the Owyhee canyonlands. If you happen to see a big ram or a group or ewes and lambs, it's a genuine treat.
Far & Away has been running trips in the Owyhees for more than 38 years. We know the very best secret canyons to explore:
Lower Owyhee– Best for families and kids. Four-day trip. The Lower Owyhee features a mix of fun rapids, scenic canyons, side hikes at Pruitt's Castle or Whistling Bird, hot springs, and relaxing smooth water.
Middle Owyhee– Rock and roll whitewater mixed with tranquility. Three-day trip. Below Three Forks, you'll hit the first rapids in less than a mile. Your guides will run a rock garden in "Ledge" Rapids, and boom, you can take a deep breath and settle into enjoying the scenic Owyhee canyonlands. Two other big rapids will send the adrenaline meter into the red zone – Half Mile Rapids, a long rock garden, and "Widowmaker," which thankfully can be portaged over giant boulders. Your guides may enlist your help to schlep gear across the rocks. In between rapids, you'll enjoy the scenery in this reach, maybe do a little side-hiking, and relax in sweet campsites. This section is very remote, and you are not likely to see any other river parties along the way.
East Fork Owyhee– High adventure in the headwaters of the Owyhee River. Five-day trip. Our guests run the East Fork in inflatable kayaks, led by our guides. It has a mix of rapids, hundreds of S-turns and meanders bordered by thick willows, and several noteworthy Class 2 and 3 rapids. About two-thirds of the way through the trip, our guides will portage your boats around Owyhee Falls, a long, boulder-choked rapids with no discernable safe route. Once back on the water, you'll run a few more Class 3 rapids before reaching the takeout at Crutchers Crossing. The East Fork also is also quite remote, and you may or not see any other humans during the trip.
South Fork– Mellow and relaxing. The South Fork is a three- six-day trip deep in the southern end of the Owyhee River drainage. Our guests run this section in rafts, inflatable kayaks, and canoe. The South Fork winds through many meanders inside a deep reddish-orange canyon punctuated by spires, columns, alcoves, and caves. The hardest part of running the South Fork are the lengthy drives to the river launch site and then from the takeout back to civilization.
Start Your Adventure Today!