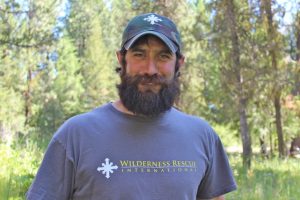 Nate Ostis – Founder of Wilderness Rescue International and this industry leader's opinion on the Far and Away Crew".

We're all witnessing it these days. Mediocrity is a plague. It's running rampant throughout professions and just generally in our society's comportment. There is a trend where too many people are screaming in all caps on their social platforms and drawing lines in the sand. They are pointing the finger instead of pulling the thumb. If you're also growing weary of these patterns then look no further than
Far n Away Adventures
for a refreshing and uplifting perspective on life. I have upwards of 450 students each season. I'm always looking forward to my next opportunity to work with
Far n Away Adventures
. This company is a pleasure to work with because they are always getting better. It's not about checking things off the list for the sake of doing them, instead, it's about doing the work better than the last time they did it. Training this company on a regular basis is a true challenge for me because the crew is stronger and more talented every time I circle back around to them.
Far n Away
is a technically sound organization but what is most impressive is the culture. They bring people together and inspire them. They love. They laugh. They cry. And they learn. What a great thing. Far and Away is a place both employees and guests call "my other home". Finding rafting outfitters is easy. Traveling with genuine human beings that are warm and passionate is a special and rare gift. Treat yourself.
Wilderness Rescue International (WRI) specializes in professional trainings in swiftwater rescue and wilderness medicine. They run approximately 30 courses a year across the globe for agencies, outfitters, and private groups. Nate Ostis is the founder and director of WRI and holds a BS in Education and a K-12 teachers certificate. He is the author of the River Rescue Field Guide which won the National Outdoor Book Award for Best Instruction.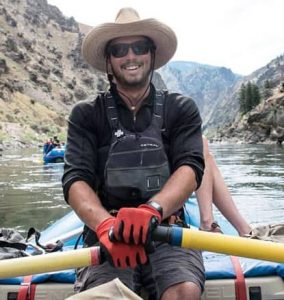 Jake Miczulski
Being born and raised in the Idaho outdoors, Jake has a passion and zest for the River and it shows! This guy is never short of stories to tell, poems to recite, and always carries handful of jokes. On the river, Jake is our primary fishing guide, eyes always on the Rapids and the gilled-creatures beneath! Watch out ladies, he is one heck of a swing dancer and will kick up his boots at any given tune! Favorite spot on the river: Greyhound Creek. Jake from the University of Idaho where he studied his other love: fire ecology.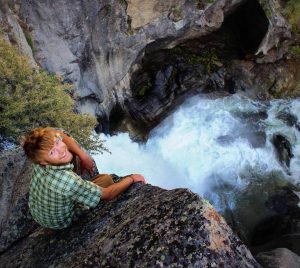 Galen Barker
After joining us on a training trip and working some late season trips, we couldn't stand the idea of running the Middle Fork without Galen. After 3 seasons of running the Main Salmon and occasionally the Middle Fork, he was excited to make the transition to the Middle Fork full time. A Wood River native, Galen grew up on Idaho's rivers and has a passion for the outdoors. Galen is a recent graduate from the University of Idaho with a degree in Recreation trying into Outdoor Education. He minored in Business and wants to learn as much as possible about the outfitting world. He spent two years working for the University's Outdoor Program where he helped instruct field courses and lead all different kinds of trips around the Northwest. During his free time, Galen can be found running rivers all over the West, kayaking, and backcountry skiing. We are excited to welcome this enthusiastic, fun loving, hard worker to our crew! Get excited to run the river with this hilarious guy.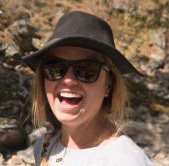 Hanna Curran
If you are looking for a spiritual yoga session on the river, Hanna is your girl! After finishing her yoga certification in Bali, she is one of our two yoga instructors. Hanna grew up hunting and fishing in the Idaho wilderness; if you have never fished before, she is both an amazing teacher and an enthusiastic fisher woman. Whether you are on her fishing boat or in her paddle boat, be sure to pick her brain about world travel! Favorite addition to any meal: anything coconut. Her love and passion for the Church are infectious; she is a great one to get to know!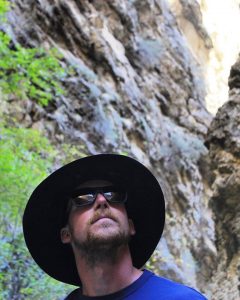 Reed Stokes
When you see Reed making eggs in the morning, you want to order an omelette and watch the master at work. He is constantly surprising us with his hidden talents and his impressive collection of hats and pearl snaps! Most days, you can find Reed driving sweep boat and pulling the night shift around the campfire. He has a couple of great stories and songs that you might hear after nightfall; when he starts singing in a Scottish accent, prepare yourself for some side splitting laughter! When Reed isn't on the river, he is pursuing a number of different careers and passions including working as a firefighter, an Arborist, driving snow cats in Sun Valley, tossing pizzas and any number of other places. At the end of this river season, he spent two weeks working at a hunting camp in the Frank Church, learning to pack horses and spending some more time in the wilderness. Reed brings an exceptional amount of enthusiasm and dedication to the work that he loves as he is constantly seeking to expand his knowledge; it is truly inspiring! Get to know Reed on the passenger sweep known as the 'Freddy J' and see what you can learn from him as you head downstream!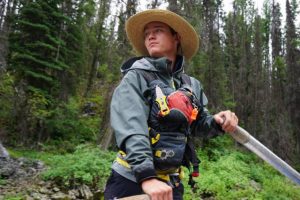 Chris Lentz
Chris is one of the lucky souls who was fortunate enough to be able to grow up on the Middle Fork. He began working on the river at 16 and guiding the day he turned 18. At 22, Chris is in his fourth year of college at the University of Idaho studying Geography with a minor in Business. While he is also working for the UI Outdoor Program, and college ambassador for Red Bull. He just bought a kayak and is looking forward to picking up a new sport! We're excited to share his up-beat personality and musical talent around the campfire with you!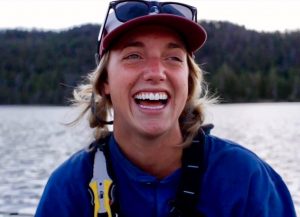 Sanne Hilbrich
Sanne is the newest member of our crew, and we are psyched to have her! She is graduated from Montana State University this May with a Bachelors of Science in Environmental Science with a focus on Natural Resource Management. Sanne has a large affinity for anadromous fish (and all fish in general), so much so that she wrote her Senior thesis on Snake River salmon and steelhead and the potential positive impact of the removal of the 4 dams on the Lower Snake. We can't wait for her to share all of her knowledge with us this season! In the near future, she plans to go to graduate school to get her masters in Environmental Education or something similar in order to pursue a career in teaching! Get stoked for season of boating and fishing with Sanne!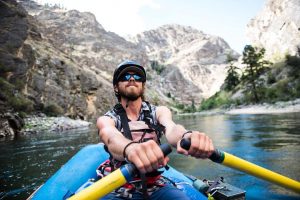 Ross Cooper
Meet Ross, a delightful man hailing from the Ketchum, ID area as well as Santa Barbara, CA. By day, Ross is a vivacious paddle guide amongst other roles, known to get his whole team of paddlers in unified strokes and singing songs! By evening, Ross is our incredibly talented Massage Therapist. Not all can say they've had a massage in a setting as serene and breathtaking as the Frank Church Wilderness. Ross is a big fan of strong coffee, Queen B (Beyoncé), and is a notorious Burning Man attendee. He swims better than most fish, which is evident in the river as well as during his off-season love of surfing. He is also an avid rock climber, and is often seen scaling cliff walls across Cliffside Camp on the Middlefork! Ross practices Massage Therapy at numerous locations in both Idaho and California. We love Ross!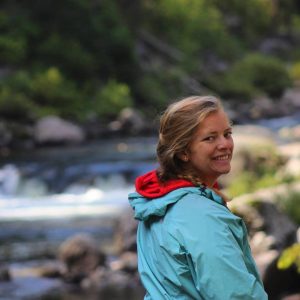 Daniela Stokes
Daniela is one of our newest guides. She joined us full-time for the 2016 summer after falling in love with Idaho's rivers and forcing her way onto the F&A crew the year before. Whether you find her in the boat, in the kitchen, or around the campfire, Yella is guaranteed to arouse an uproar of laughter with her offbeat humor, diverse accents, and mischievous grin. During the offseason, Dan is embracing the ski bum life and an aspiring French Teacher. Let her show you the Frank Church this summer, you won't regret it!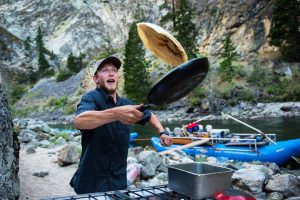 Matthias Fostvedt
Matti has a number of tricks up his sleeve: pictured is his killer quesadilla flip. He is a one of a kind, enthusiastic, smart, goofy guy. Being a long time kayaker, Matthias has an understanding of water that takes most guides years to learn. When he isn't playing in his kayak, he is driving a sweep boat down the river and sometimes even guiding a paddle boat or rowing an oar boat. In his off season, he studies Water Law at the University of Oregon and plans to one day do his part to help with the management of our water resources. We love working with Matti!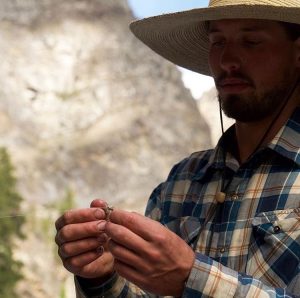 Sage Sauerbrey
If you ever want to hear a story about anything on the river, you want to hear it in all of its eloquence from Sage. As a recent college graduate with a degree in Journalism and Outdoor Leadership, he combines his passions through researching and writing about the Tukudeka people (the Sheepeaters, the natives of the Middle Fork) and then being able to share this knowledge with our clients as he takes them downstream. Sage is one of our most seasoned guides and has mastered every craft, but is most commonly found driving a sweep boat. When he isn't driving a boat downstream, setting up tents at a remarkable speed or grilling up a mean steak, you can find him around the campfire singing his heart out and playing his steel guitar. Being a lifelong fisherman, he is always game to cast a line using some of his own flies! Get excited to ride on his boat as he deftly navigates the rapids while occasionally singing to you and recounting stories about the incredible people and happenings of the Middle Fork.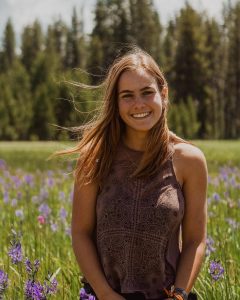 Caroline Parker
Caroline first found her love for the Middle Fork as a guest at 10 years old. At 13, she came back, fell in love again, and wrote her first song about it. At 15, she knew that she couldn't go another unknown length of time without being able to call the Middle Fork home. Caroline has a contagious love and energy about her. Her constant smiles and giggles are always a pleasure to be around, not to mention her songbird voice will draw you in from anywhere in camp. We look forward to watching Caroline continue to grow and watching her love and knowledge of our home flourish.