The Middle Fork of the Salmon river is the most prized wilderness river trip in North America, if not world.  Far and Away adds a unique, multi-dimensional luxury component to the Middle Fork experience, making it a trip-of-a-lifetime, a truly memorable and comfortable experience for your family and friends.
The Middle Fork was one of the original eight national wild and scenic rivers protected by Congress in 1968 because it's in a league all of its own.  It flows 100 miles through dozens of thrilling rapids, deep turquoise pools full of native cuttrhroat trout and towering granite cliffs in the Impassible Canyon.  On the banks of the Middle Fork, spacious wooded and beach-front campsites are oh-so-relaxing as a gentle breeze hums a tune through stately pines that can be heard only in the wilderness quietude.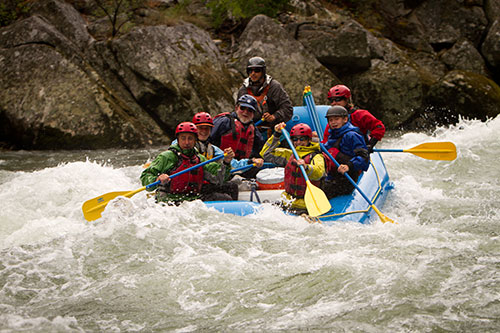 For dinner, you will sit at a table set with French country cloth, toast the Middle Fork with the finest in stemware, and eat a fabulous gourmet meal under the glow of candlelight and, of course, more stars than you have seen in a lifetime.
The Ultimate Movable Feast
Pacific Rim Gala

Appetizer
Goat cheese fondue, pears, fennel, grilled rustic bread

Salad
Caprese Salad with heirloom tomato and buffalo mozzarella

Entreé
Champagne-poached salmon fillet *(wood fired)
Savory cornbread pudding *(Dutch oven)
Wilted spinach with shallot butter

Desert
Dutch oven pound cake with lemon chiffon and fresh blueberries and blackberries