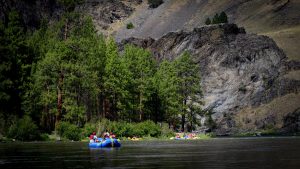 Talk about bourbon on the rocks! Idaho rafting trip teaches the basics of bourbon while on the Salmon River
If you like your bourbon on the rocks, go white-water rafting. Bourbon lovers and neophytes will learn a lot about the American whiskey this summer while being immersed in nature on Idaho's Salmon River.
Idaho-based operator Far and Away Adventures specializes in what it calls "wilderness luxury." It has crafted a six-day trip, Aug. 27-Sept. 1, called Bourbon on the Middle Fork that combines rafting and catch-and-release fishing with daily bourbon tastings and Bourbon 101 tutorials.
During the trip, participants sip and compare different types of bourbon, then sample changes in flavor when they're served "neat, cut and on ice." Discussions center on topics such as new techniques in bourbon making (barrel storage, blending, etc.) and how bourbon fares in cocktails.
"Emphasis will be placed on tasting protocol and influences as well as common vocabulary and how to taste and enjoy bourbon," a trip description says.
If it sounds a bit hedonistic, relax. Part of your trip cost will support an organization devoted to protecting the state's Sawtooth National Recreation Area. (The nonprofit organization is ponying up two pros to provide the bourbon content of the trip.)
By day, participants can expect to run the river on the Salmon River, which was designated a Wild and Scenic River in 1968.
The cost is $2,950 per person, plus $120 for the flight to the Middle Fork and a 3% National Forest Service fee. It covers all ground transportation, rafts, guides, meals and, of course, the bourbon.
Info: Far and Away Adventures, (800) 232-8588