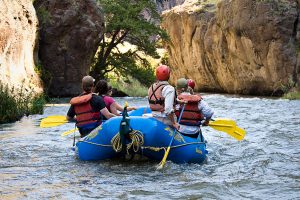 Whether they suffer from FOMO or just need to relax, these trips are perfect for teens — and the rest of the family.
Teens can be a picky lot. But they're at an age when they will remember family vacations, and great memories can be made. Here are some teen traits and how to accommodate or battle them on your next trip
Your teen may suffer from FOMO
That's Fear of Missing Out. Sure, there's the big game on Saturday, Heather's birthday party and Jason's gathering to consider. But won't there always be some can't-miss event on your teen's calendar?
The flip side is they'll have plenty to share on social media after the family boards a high-tech über-ship like Royal Cabibbean's Anthem of the Seas for an island-hopping cruise through the sunny Caribbean.
Or perhaps your son or daughter would prefer exploring Alaska's Inside Passage. Expect photo ops on ziplines or while dog-sledding across icy glaciers.
Your teen may relish the rewards of unplugging
You won't know for sure until you try. But once there is no Snapchat to send or sports scores to check, the conversation may flow.
So buckle up your personal flotation devices and share the thrill of a trip down Idaho's Middle Fork of the Salmon River with Far and Away Adventures, where trout are plentiful, hot springs provide a welcome warm-up and frothy rapids get the adrenaline pumping.
Share stories around the campfire and catch the star-filled show overhead.
Your teen may be stressed
It's a complicated world. And then there are colleges and careers to consider. So, for now, why not relax, old-school style?
Head to southern Maine's Migis Lodge on the shores of Lake Saranac, where families have been bonding since 1916. Swim, paddle, float, ski or sail by day.
Then, gather your clan for a lobster or clambake before a settling in for a fireside game night in your cozy cottage.
Your teen is curious
So why not explore someplace new together?
A textured city such as New Orleans offers rich cultural, historical and adventurous outings. Check out the spooky vampire and haunted house tours and visit compelling movie sets.
Sample new styles of music in all-age venues like House of Blues and Preservation Hall. Stir up some spice-filled fun in a Cajun cooking class before testing your skills in an Audubon Institute ropes course.
Your teen will be gone before you know it
You'll be moving your fledgling adult into a dorm or apartment in no time. So for now, pack your suits and sunscreen and enjoy quality island time.
In Hawaii, explore torch-lit paths, indigenous birds and flora, and a world-famous luau at the Big Island's Hilton Waikoloa Village. Dig in for toes-in-the-sand dining and hula dancing on Kauai, snorkel on Maui, or surf and swim while relaxing on Oahu.wa
READ THE FULL ARTICLE
By Lynn O'Rourke Hayes
The Dallas Morning News (TNS)