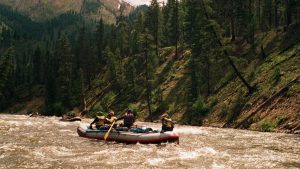 Earth Day provides an annual reminder to treasure our natural resources. Here are five ways to appreciate this beautiful planet.
1. Visit a national park. You may already have a favorite, or perhaps you yearn to visit Yosemite or Glacier. This year, the list of possibilities got longer with the addition of seven new parks in eight states plus the District of Columbia.
While several of the newbies await land acquisitions or design approvals, others are ready for your arrival.
Check out the Blackstone River Valley National Historic Park in Massachusetts for river rafting, canoeing, kayaking and cycling. You'll also get the chance to honor the birthplace of the American Industrial Revolution. The area hosted the first successful water-powered cotton-spinning factory, a symbol of the nation's transition from farm to factory. Ask about adventure packs to help youngsters explore the region.
Contact: nps.gov/blac
2. Raft a river. Find your way to Idaho's Frank Church Wilderness and commit to an unplugged week on the Middle Fork of the Salmon. As you float, fish and splash through 100 miles of spectacular scenery, you'll be treated to unexpected luxuries. Relish the fresh air of morning as your crew delivers hot coffee or cocoa to your cozy tent. Later, warm up in a hot spring, dine on organic, seasonal specialties and plan for the next day's adventure under a starry sky.
3. Hike the Rockies. Make a plan to take on a trek that will reward your clan with stunning vistas, wildflowers and a sense of accomplishment. The 12-mile trail between Crested Butte and Aspen crosses over the Maroon Bells pass (12,500 feet) and through splendid scenery.
A package created by Crested Butte's Nordic Inn and the Limelight in Aspen simplifies logistics for travelers. It offers a comfortable night's sleep, breakfast and assistance in transport to and from the trail heads. Your complimentary use of a satellite-assisted device makes it possible to track your progress, enabling an easy pickup at the end of the hike (and SOS capability in the off chance things go awry).
Contact: nordicinncb.com; limelighthotel.com; visitcolorado.com
4. Consider a farm stay. A stay at the Flint Hill Farm, which is on 28 acres in Pennsylvania's Lehigh County, means you and your family will learn about country life dating back to 1850.
Find out what it means to run a certified raw cow and goat milk dairy and how artisan cheese, butter and yogurt are made. Collect eggs for breakfast and then, if you like, assist with feeding and handling the horses, chickens, pigs and sheep.
Contact: farmstayus.com; flinthill-farmag.org
5. Camp under the stars. Keep your carbon footprint low by setting up your tent close to home. Teach the kids what it means to "take only pictures and leave only footprints." Bring reusable utensils and containers and leave the campsite better than you found it.
While exploring, discuss the importance of staying on marked trails to protect fragile ecosystems.
READ THE FULL ARTICLE
BY: Lynn O'Rourke Hayes
The Dallas Morning News